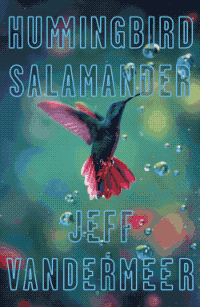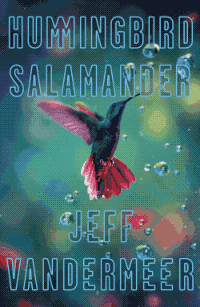 Furtown:
One of the most amazing discoveries I made during my research for Hummingbird Salamander was a book called Oddly Enough: From Animal Land to Furtown, from the 1930s. This remarkably eccentric bit of propaganda for the fur industry has to be read to be believed. I knew that Jane, the protagonist of my novel, would encounter this text and that it would intrigue her as much as it intrigued me. Now we're giving away a copy with Jane's notes in it, as well as the slightly bizarre penciled-in comments from the previous owner of this used edition. By gaining access to this site, you've already been entered into that sweepstakes, but enter for the one-of-a-kind annotated copy here. 
A Trip to the Museum:
Another unique feature of Hummingbird Salamander is that a real biologist, Dr. Meghan Smith Brown, created the imaginary hummingbird and salamander. I'll talk more about this on tour, but it really helped the story to have to work with that constraint. Now you can download exclusive one-sheets about these mythic creatures, done in an all-ages natural history museum style. (Art by Jeremy Zerfoss.)
Unitopia:
In my novel, the eco-terrorist Silvina, the one who gets Jane in all sorts of trouble, created an attempt at a truly sustainable environmental community called Unitopia. Here you can download a poster of the original blueprint for Unitopia, along with a psychedelic art version that's a nod to the inspiration for Unitopia in 1960s utopian communities. (Art by Jeremy Zerfoss.)
Hummingbird Salamander Behind the Scenes
Warning: Spoilers regarding hidden easter eggs in the novel
It's many years and many books since City of Saints & Madmen, which is just riddled through with literary allusions and hidden references to any number of other texts. Since then, I've sometimes hidden things in other books, but certainly not in the tangled profusion of that first effort. Most notably, some readers have picked up on little easter egg nods to my Ambergris universe in the third Southern Reach novel, Acceptance ("refraction of light in a prison", et al).
For Hummingbird Salamander, the hidden references are mostly of a different sort. There's a strong visual element in how each part ends with an image. Some of those images are out of order on purpose, for plot reasons. Others hid messages simply because the artist who designed them, Jeremy Zerfoss, has worked with me for a while and knows my other work.
For example, the image of the cover of Furtown has a half-burned page showing beyond the cover. Jeremy chose a page of text from Annihilation to peek out, which will only be obvious to the most devoted Southern Reach fan (and, now, to you…).
I will also admit that I'm still haunted by the blue fox in the Borne Universe books, especially Dead Astronauts. In a sense I'm haunted by not just my own creation but also Sjon's The Blue Fox. It was Sjon who allowed me to repurpose the blue fox, very kindly. The taxidermy in Hummingbird Salamander felt like it contained an echo thematically of Dead Astronauts, so there is one scene with a taxidermied fox has a blue tint to its fur from chemicals.
Does this mean the new novel has any connection to the Southern Reach or to the Borne universe? Absolutely not. These are simply in there as nods to my readers, but also thematically important, I think, to my subconscious. I can't explain why, except I know it's true.
The visual aspect to the novel also began to create story on its own. The diagram of the environmental community of Unitopia came to me after Jer Thorpe kindly pointed me toward Soviet-era utopian commune blueprints. This then combined in my imagination with a knowledge of what today we'd call "sustainable communities" in the UK and Germany during the 1960s. Unitopia was conjured up out of these two impulses.
But as I considered the blueprint of Unitopia Jeremy Zerfoss had made for me, the structure itself began to suggest more story and a whole history of its own. Some of that continuing narrative can be found in the additional pages added to the indie bookstore day edition of Hummingbird Salamander and some of it will live on a site, friendsofsilvina.com, that will go live in late April. I'm still unsure whether that spark will lead to even more story, perhaps about the character of Hellmouth, who you'll meet in the novel. Perhaps about another character.
The other "hidden" element you might not realize is that a real biologist, Dr. Meghan Smith Brown, created the whole lifecycle of the naiad hummingbird and road newt in the novel. Usually, I would create those elements, but I felt that I needed the constraint of engaging with someone else's fake/real creation—specifically, someone with a biology background, so the details wouldn't be coming from an amateur (namely, me).
It was interesting how having to create story around someone's else's hummingbird and salamander affected the novel. I think it made things much stronger, in the sense that the plot had to accommodate existing details, because I'd resolved I wouldn't change any of those details just to make it easier to write a scene or advance Jane's investigation of the central mystery.
So, I guess the real hidden story of Hummingbird Salamander is how having to respond to other creator's work helped craft what I hope is a compelling and mesmerizing mystery-thriller that grapples with a myriad of ecological issues.
I know I'm very much looking forward to sharing the novel with you during this book tour—and more fascinating facts about its creation.
Thank you for reading.